MANILA, Philippines – "It's a reunion of sorts for those (artists) who were part of the '90s music scene, yung mga magkakasama dati."
That was Medwin Marfil, vocalist of True Faith, describing the Solaire Resort and Casino-produced The 90s Live!, which is set to bring the house down on July 22 at 8 p.m.
"I believe the '90s band scene has its uniqueness. The bands that came out that time offered different sounds," he added. "Hindi nagkakagayahan. May kanya-kanyang (tunog) gaya ng Eraserheads and Rivermaya. They had their own style. True Faith had its own style. Yeah, it's a reunion of a lot of artists from that era and we're excited about that." 
More than that, The 90s Live!  — which also features Wency Cornejo of Afterimage, Jett Pangan of The Dawn, Cooky Chua of Color It Red, Paco Arespacochaga of Introvoys, Lei Bautista of Prettier Than Pink, Dong Abay of Yano, Perf De Castro of Rivermaya and Naldy Padilla of Orient Pearl — is a tribute to that type of Original Pilipino Music (OPM), a trip down memory lane for those who have witnessed the musical era and a look back at the past for the millennials.
"It's also a tribute because (now) OPM seems taking a back seat (and foreign music is taking the lead), especially among kids, mas pinupuno nila ang kanilang music player ng mga foreign songs kaysa OPM. We hope that with this show, people will know, especially the young ones, that OPM had a really fantastic time during the '90s. Sana maibalik muli (yung interest sa OPM) with the old artists like us and of course, with the new crop of artists."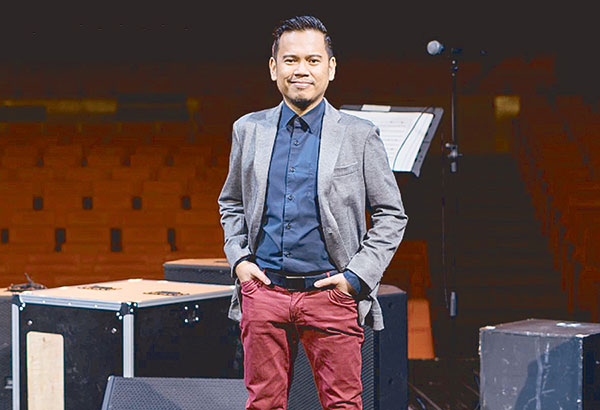 Medwin of True Faith: The 90s Live! will treat The Theatre at Solaire audience to jamming sessions and artist collaborations.
Asked what was the dominant music at that time, Medwin replied, "Well, the main genre was alternative. The reason why I think bands then had their own sound because theirs was very much instrument-based, live yung drums (among other things). Bawat musician may kanya kanyang characteristics sa pagtugtog, mas nagiging personal. I'm not trying to demean the music now. But now, it's technology-based… There are shortcuts." The singer elaborated that the sound artists can create is largely dependent on the style a particular technology or machine, made by a company, produces. "Unlike (for) example, if you're playing the guitar, there's human touch to it… I'm proud to say that in our batch we have many very good singers like Cooky Chua (I always love her voice) and Wency Cornejo. It will still go down to the uniqueness of the artistry, especially the character in the voice."
Entertainment ( Article MRec ), pagematch: 1, sectionmatch: 1
As for the music of True Faith, which spawned such hits as Nang Maabot Ko Ang Langit, Perfect, Huwag Na Lang Kaya, Sumasarap Ang Gising and Ambon, Medwin had this to say: "What people know is we're into a lot of sentimental songs because these became our hits. Not most people know that if they listen to our albums from way back, we're very versatile, very flexible with our sound."
Even if True Faith has made a name for itself, Medwin shared, "We're still making music." His band is releasing singles through Star Music and an album in August. Two years ago, True Faith gave fans a musical treat with the single titled Paano Ka Magiging Akin and a music video. The ballad is a staple on Easy Rock.
What can OPM enthusiasts and the new generation of listeners expect from the showcase? Medwin said there will be jamming sessions, collaborations among artists and production numbers. 
Since the show will bring the good old days, it won't even spare featured artists like Medwin to be in that "What-Do-I- Miss?" mode.
"Life was simple then," he recalled. "There was more free time, (the atmosphere was) more relaxed. Now everyone is on their phone, on social media. I'm kinda missing it… Before I could read a book (in one sitting), ngayon ang dami kong libro sa bahay, di ko pa rin matapos tapos ang isang libro, kasi everyone is on social media. I miss that not being online. What I also miss is… I still love CDs, I love buying my music, I have a CD collection. I miss going to record bars… You look forward to what artist album is out. Nasa rack yung Top 10 (songs). I feel sad when I go to Astrovision and Odyssey because only few frequent them. It's so different."
If there's one thing that '90s OPM artists like True Faith will be grateful for, it will be the fact that their songs are now classics. Medwin could attest to that by sharing, "nakakatuwa. Yung mga kids kapag napapanood kami, alam nila (yung kanta) kasi naririnig nila sa tito nila… We get invited to schools at yung mga kids alam nila."
This is a sign that an artist has made his niche and has come full circle.
(For details, call TicketWorld at 891-9999.)